December 12, 2014 9:55 pm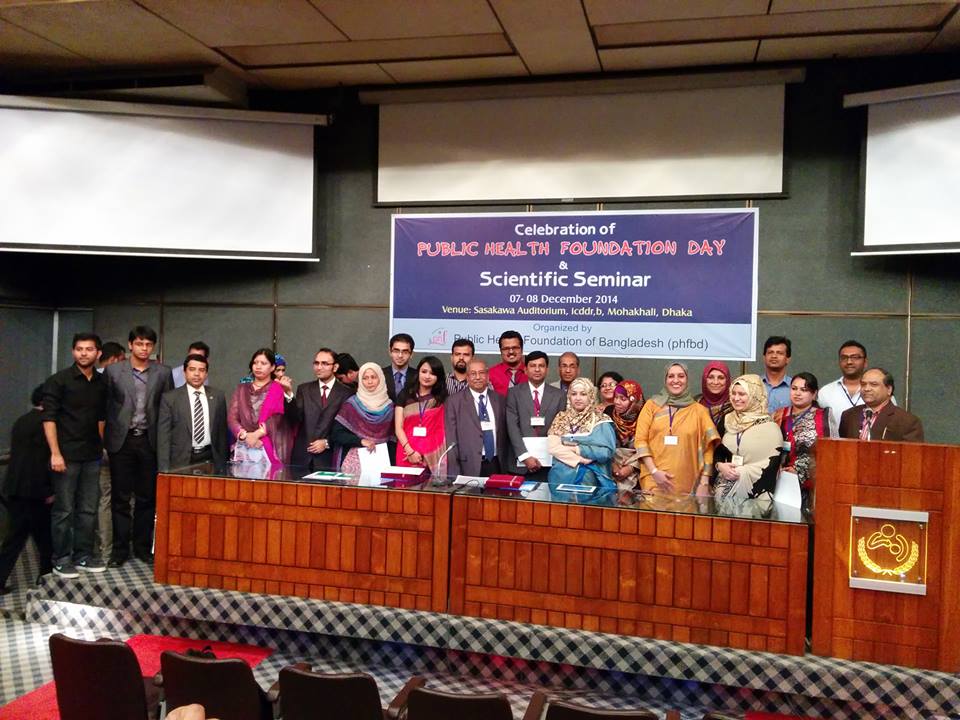 Public health Foundation of Bangladesh (phfbd), celebrated 2nd Public Health Foundation day on December 8, 2014. On this occasion 2 days

scientific conference was organized at Sasakawa Auditorium, icddr,b,  Mohakhali, Dhaka on 7-8 December, 2014.

Prof. Dr. Mahmud Hasan, President, Bangladesh Medical Association (BMA) was the honourable Chief Guest in the inaugural session, while Prof. Dr. Akhtarun Naher, Director, NIPSOM and Dr. Moazzem Hossain, President, Bangladesh Private Medical College Association (BPMCA) were the Special Guests. Prof. Dr. Muzaherul Huq, Chairman of the foundation presided over the inaugural session.

The whole program was coordinated by Prof. Dr. Sharmeen Yasmeen of the Chief Executive Officer (CEO) of phfbd. Dr. Aftabuddin of icddr,b worked as Local Coordinator  supported  by a team of students & staff of iccdr,b.

Public health awards were distributed to two eminent personalities who have contributed in public health education and public health service. Professor Dr. M Q K Talukder, Chairman,CWCH  was awarded for promoting public health education and Mr.Shykh Seraj, Founder Director, Impress Telefilm Ltd and Head of News, Channel i was awarded for promoting public health service in Bangladesh.

The main objective of the conference was to encourage the public health professionals and researchers to share the  platform with other health professionals who are also the involved in promoting  public health in Bangladesh. The conference participants had the scopes to share their  innovative thoughts and ideas with others  towards building a healthy nation with a public health approach to our health system.

In the 2 days scientific sessions public health professionals from home and abroad presented their scientific and research papers in 10 public health theme based scientific sessions. All the sessions were chaired by eminent professionals, academics of Bangladesh.

Prof. T.A. Chowdhury ,Prof. Dr. A. M. Zakir Hussain,and Prof.Badrul H Khan   presented keynote paper.

Various NGOs in the field of public health were also given the opportunity to disseminate their activities and best learning experience. Besides a good number of posters were also exhibited by some young health professionals.

Center for Health and Development (CHD-India) partnered with the Public Health Foundation of Bangladesh to advance conversations in health.

The Memorandum of Understanding was signed on December 8 at Dhaka, Bangladesh. Dr Edmond Fernandes, CEO, Center for Health and Development, Mangaluru, signed the MoU in Dhaka with Dr Sharmeen Yasmeen, CEO, Public Health Foundation of Bangladesh. Members of Public Health Foundation, Including Dr Muzaherul Huq, Chair, PHFBD and Former Advisor, World Health Organization were present.

The program was ended with the announcement of invitation to the "3nd Public Health Foundation Day" to be observed on December 08, 2015.

.