October 25, 2016 12:43 pm
On behalf of Bangladesh Academy of Dentistry International (BADI) it is our pleasure to invite you to participate in "7th International Dental Congress and Trade fair 2017" on 27 & 28 January 2017 (Friday-Saturday) at INSTITUTIONS OF DIPLOMA ENGINEERS, Kakrail VIP Road, Dhaka.
The main attraction of the Congress is Scientific Seminar  which offers the participants to hear eminent speakers of both home & abroad, also enables them to share knowledge & clinical experiences.
Another attraction of the congress is Hands on courses which offers participants to update their knowledge on recent advancements of dentistry & clinical experiences from veteran clinicians from home & abroad.
A big & marvelous dental trade fair will be arranged at the Congress Premises with the participation of manufacturers, exporters & sole agents of various world class dental equipments, materials where congress participants will get Dental materials equipments and instruments at special discount price.
An exciting cultural program along with raffle draw will also be arranged, this will allow participants to enjoy a refreshing evening. Your kind participation on the Congress will be treated as a supreme source of inspiration for us in making the event a grand success.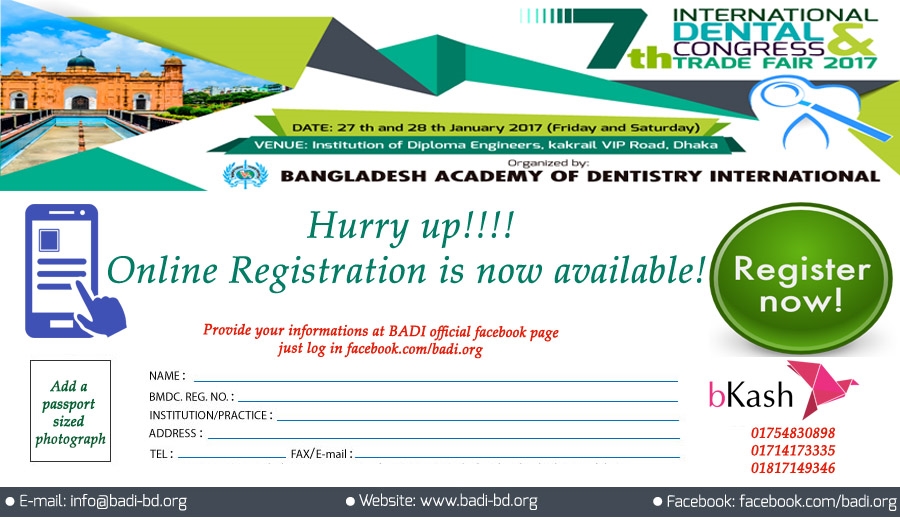 Online registration through Bkash is available now in 7th International Dental Congress and Trade Fair 2017

Just Follow some simple steps:

1. Bkash your Registration fee to any one of the following numbers:

01754830898, 01714173335, 018171493462.

Inbox us at facebook.com/badi.org the following information

a. Name

b. BMDC Reg. no.

c. Institutioin/Practice

d. Address

e. Tel/Mobile

f. Fax/E-mail

g. One color passport sized photograph.

After confirmation of your Registration process you will be given a Registration number. Its very easy. Hurry up!!!!

For registration & for further_information please contact the following numbers of BADI Officials: 01754830898, 01714173335, 01711957515, 01715253868

Also please go through the following information highway for further queries:

Official Website: www.badi-bd.org

Official Facebook Page: https://www.facebook.com/badi.org/

Thanks & regards,

Prof. Dr. Chowdhury Moin Jan, BDS, PhD

General Secretary, Bangladesh Academy of Dentistry International (BADI)

***Registration Opens from 15th November, 2016***

***Please see the poster for detailed registration information***

Students can register from there own dental colleges. Here we are mentioning the name of some respected supervisors who are taking responsibilities for this  registration process .

1. Dhaka Dental college

Dr.Badruddoza

Dr.Kamrul Hasan

2. University Dental college (UDC)

Dr. Anam Ahmed, Assistant Professor of OMS department

3.Saphena women's dental college

Dr. Md. Aminul Islam

For more information  please let us know about other supervisors of your own colleges and we will mention there name here . You can do message on our page :www.facebook.com/Platform.med.org/

.